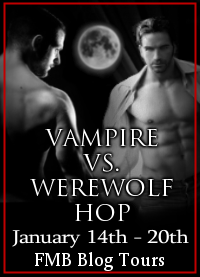 The Vampire vs. Werewolf Hop, hosted by
FMB Blog Tours
, continues today.
I'm TEAM WEREWOLF (though I love vamps too), since my first book of paranormal erotica was Alpha Mountie, and I'm very partial to my werewolf hero, Cam Dawson, an RCMP Officer. (Want to win a free copy? Keep reading!)
Today, I'l profiling a few of my favourite werewolf movies. I'd love to hear some of yours -- what have I missed? What should I give a second chance, if I didn't love it the first time around?
Ginger Snaps
A Canadian werewolf flick about two sisters who live in suburban Ontario and can't wait to get out, to the point where they make a suicide pact -- "Out of this scene or dead by sixteen."
This was filmed about 20 minutes from where I grew up, and I'd never seen a horror movie that looked so *real* before -- like someplace I could actually live.
It also has a seriously dark sense of humour, and lead actresses Katherine Isabelle and Emily Perkins are sexy, brilliant, and amazing.
Brotherhood of the Wolf (le Pacte des Loups)
This film is absolutely ridiculous, in a good way.
From IMDB: In 18th century France, the Chevalier de Fronsac and his native American friend Mani are sent by the King to the Gevaudan province to investigate the killings of hundreds by a mysterious beast.
There's sex, martial arts, melodrama, French mythology, Monica Bellucci and Vincent Cassel looking gorgeous, and a potential werewolf.
Wolfen
This is the story of a New York City cop who investigates murders that seem to have been committed by an animal...but soon he realizes there's more to the story.
It's a quiet film, not action-packed -- it has a lot to say about the natural world and humanity's place in it.


I love the tagline: "They can hear a cloud pass overhead, the rhythm of your blood. They can track you by yesterday's shadow. They can tear the scream from your throat."
The Howling
The premise is horrifying: a female TV reporter is nearly raped, and goes to an isolated rehabilitation colony to recover...but once she arrives, she discovers that the colony may not be what it seems.
The film itself is oddly empowering, and showcases a very cool early-80s werewolf transformation scene, plus Patrick McNee (any Avengers fans out there?) and Roberto Picardo (the hologram doctor from Star Trek: Voyager).
An American Werewolf in London
Two American tourists in England are attacked by a werewolf -- but they don't believe in the paranormal, so where do they go from there?
One of the first real horror movies that blended humour with its scares, predating films like Scream by a decade.
The makeup effects were unbelievable for their time, and still pretty cool now.
Want to win ALPHA MOUNTIE? Leave a comment, letting me know: What's your favourite werewolf film? Is it one of mine, or did I miss one? Or: Which do you like best, vamps or wolves, and why?