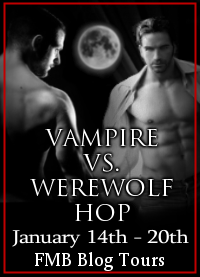 We're still battling it out with the Vampire vs. Werewolf Hop, hosted by
FMB Blog Tours
.
I'm on Team Werewolf, but I definitely don't begrudge a vampire hero...fangs and pale skin can get me going. Still, I've donated a copy of my own ALPHA MOUNTIE to the giveaway pot to throw my vote in for the wolves.
Interested in winning? Leave a comment letting me know whether you're playing for the vamps or the wolves...
To help you decide, I'm blogging about a few of my favourite werewolf novels:
Bitten by Kelley Armstrong
Elena, the world's first female werewolf, is strong, vulnerable, sexy, and amazing. Yeah, I kinda want to be her.
Kelley herself is a fantastic woman -- I've met her quite a few times, and she's always gracious, down-to-Earth, and absolutely hilarious.
Kitty and the Midnight Hour by Carrie Vaughn
A werewolf named Kitty, host of her own radio show about the paranormal.
The concept was too funny, I had to pick it up -- and then Vaughn shocked me with some seriously nail-biting action. As the series goes on, it just gets better and better.
Kitty has evolved like no other character in paranormal romance, and I love reading her stories.
Benighted by Kit Whitfield
Literary noire detective werewolf fiction with bite would describe this. Very different from your usual genre fare, and absolutely brilliant.
Whitfield imagines a world in which the majority of the population are werewolves...how do the humans deal?
Blood and Chocolate by Annette Curtis Klause
One of those writers I wish published more books! Klause is amazing. It's YA fiction, but very clever, about a werewolf girl living in suburbia who falls in love with a meat-boy (a human).
Actually, to jump to the other side for a minute -- The Silver Kiss is one of my favourite vampire novels of all time. So if you love vamps, check out Klause that way.
Cry Wolf by Patricia Briggs
I love Briggs' Mercy Thompson series (Mercy is a scrappy, awesome coyote shifter heroine) but I also adore her Alpha and Omega books.
Anna is an omega wolf -- what's normally seen as the bottom of the pack, but her lover, alpha wolf Charles recognizes her own particular strength.
A very cool look at an undervalued part of the werewolf pack structure.